Q. What was one of the first things you did after moving to Boynton Beach?
A. Spell.
That's right, you learned the correct spelling of Boynton Beach. How many times have you given your address to an out-of-state relative and said, "No, it's B-O-Y-N-T-O-N. There's an N after the Y. No, not Boyton. It's Boynton."
It never ends, and I'd like to introduce you to the man you can thank: Nathan Smith Boynton.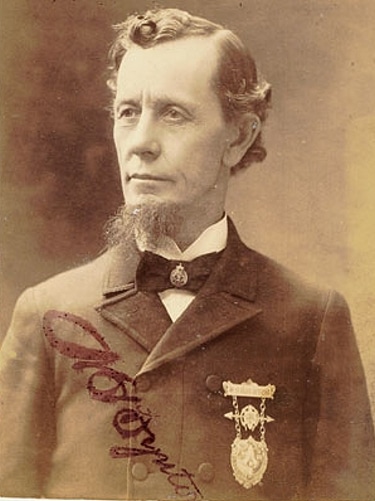 Nathan S. Boynton was a Civil War major and a good deal other things besides the man who gave the city of Boynton Beach his name. He was born June 23, 1837 in Port Huron, Michigan. His direct ancestor John Boynton emigrated to the New World in 1638, a scant eighteen years after the Mayflower landed at Plymouth Rock, from Yorkshire, England and settled in Rowley, Massachusetts. Another ancestor, Sir Matthew Boynton, was knighted by the Crown of England in the Seventeenth Century for being the first to ship sheep and goats to America.
His father, Granville P. Boynton, helped pioneer Michigan in 1827 and his mother's father was Captain Johann Ludwig Rendt, a Hessian soldier who fought for the British in the War of 1812.
After graduating high-school in Waukegan, Illinois, Nathan S. Boynton worked as grocery-store clerk and a buggy-whip manufacturer before making a tidy sum of money with his own grocery business. He invested his savings in Michigan pine lands and was promptly wiped out by the Panic of 1857.
Over the next five years, he lived in Cincinnati, New Orleans and St. Louis struggling as a farmer's workhand, carpenter and a salesman of electrical apparatus for "curative" purposes (obviously this was before the FDA). In 1860, he married German-born Annie Fidelei and had his first of six children, Charles Boynton. He gave his firstborn the middle name of Lincoln in honor of the newly elected president who's strong anti-slavery position mirrored his own. For this reason, Nathan S. Boynton left his wife and child to enlist as a private in the Eight Michigan Calvary of the Union Army (Boynton is easily recognizable below in a tan suit in this 1897 reunion photo, seventh from left in the third row from the bottom).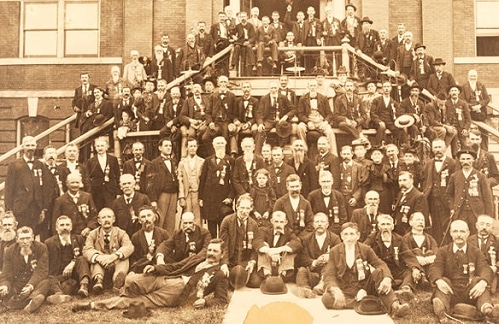 And it was here that Boynton's star began to shine. He was soon promoted to the rank of First Lieutenant and with a detachment of 100 men cut off the retreat and accepted the surrender of Confederate John Morgan after his devastating raid through Kentucky, Indiana and Ohio. He served under Burnside in the campaign of East Tennessee and was in one of the first units that marched Into Atlanta alongside General Sherman.
Returning to Port Huron as a Major he became the editor and publisher of the Port Huron Press. Boynton was elected mayor three times and served in the State Legislature. He also invented the Boynton fire escape, the Boynton hook and ladder firetruck and the Boynton system of rope trussing for fire ladders. Nathan S. Boynton was also a founder of the Order of the Maccabees. Under his leadership the order's membership grew from a handful to almost half a million.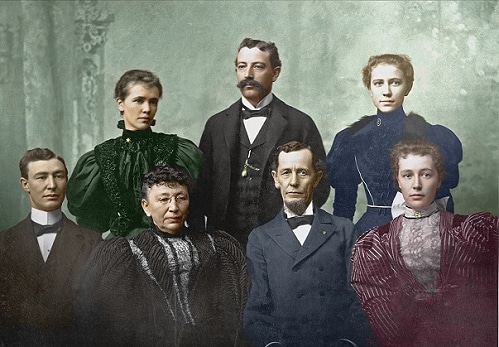 By 1883, Boynton's health began to deteriorate. In 1894, he and his friend, Congressman William S. Linton, traveled to south Florida in search of a winter retreat from the harsh Michigan winters to purchase land for sale along Henry Flagler's new railroad to Miami. They sailed down the newly dredged Florida East Coast Canal (the Intracoastal) in Fred C. Voss's launch Victor.
Pausing at an area close to the present-day Ocean Avenue, Nathan S. Boynton waved his hand in a circle and said, "I'll take this."
It was as simple as that.
Boynton purchased 500 acres for twenty-five dollars per acre. Linton selected land further south that temporarily bore his name until it was changed to Delray Beach.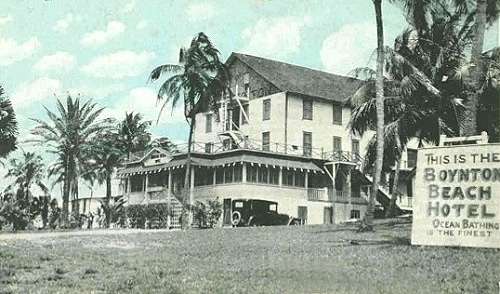 The following year, Boynton began construction of the legendary Boynton Beach Hotel that immortalized his name with the area and outlived him by fourteen years.
Nathan S. Boynton died in Port Huron, Michigan at 11:30 pm on Saturday, May 27, 1911. His last words were, "I am tired. I am ready to go."
David J Castello

More Boynton Beach History
The History of Boynton Beach
The Barefoot Mailman
The Boynton Beach Hotel
Boynton Beach Indian Mounds
Wreck of the Coquimbo
BoyntonBeach.com
The Visitors Guide to Boynton Beach, Florida!